Dates : week-end from 15 to 17 may 2020
Rates : 450€ (12H , accommodation and meals included)
The number of participants is limited to 12
Audience: beginners level zero
Réservez dès maintenant
Objective :
This workshop has as objective understanding of the process of developing the male nude painting, oil painting on canvas or
paper support, from the drawing, to the preparation of
colors until the final work.
In a few days we will see a complete method: from the structure of the drawing, to the study of shadows and light, of the organization of the palette of colors of the flesh to the study of the material.
My support in teaching painting is a method that can offer real solutions to those who choose to start painting, as well as to those who, already having a little experience, wish to go further in their approach and perfect.
Your Teacher: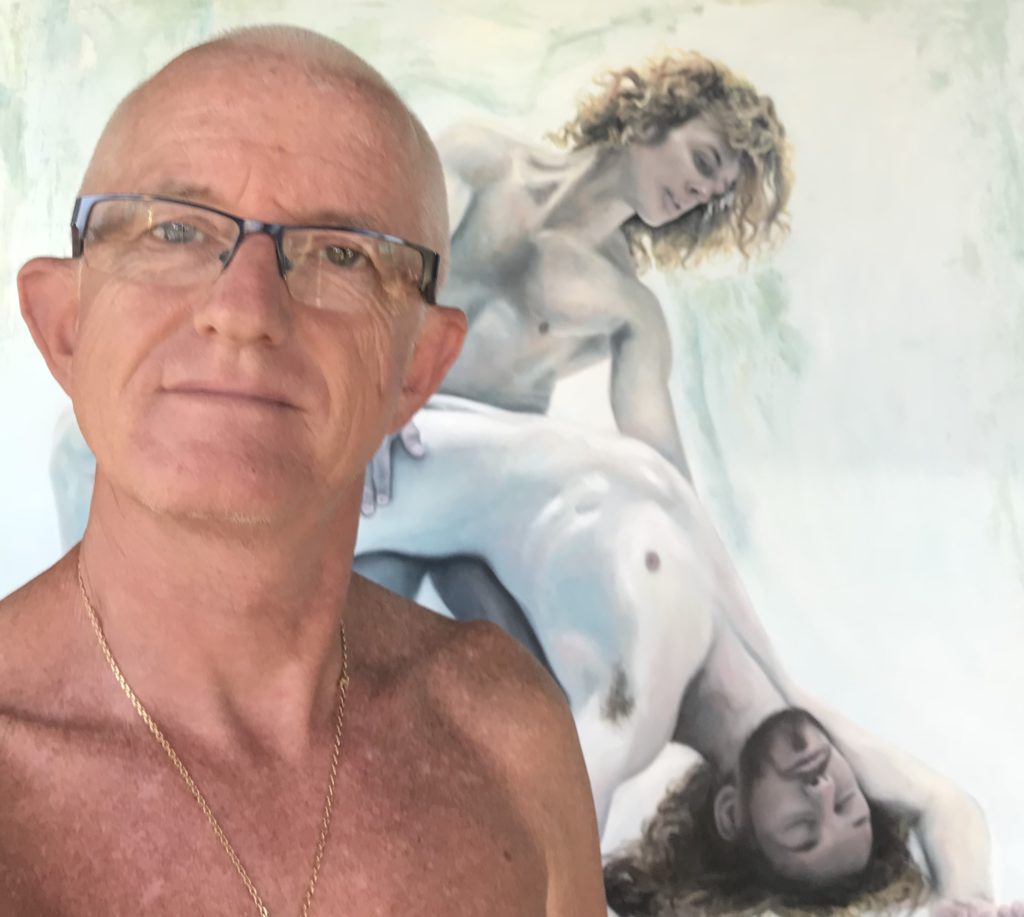 DELOS is a painter who mainly oriented his production towards the male nude with the theme of the gods, heroes and mythology. He has been painting since the age of 14 and draws his inspiration from mythology and many sources such as the Italian painters of the Quattrocento or Ingres, Poussin, Velazquez, Vermeer, Magritte …

His works are carried out with very classical oil painting techniques on canvas to which he gives that very personal touch that gives both this feeling of life, wonder and movement of these sublime characters and bodies. Www.delos-art.com
The living model: Romuald

Le lieu :
Le Vieux Donjon, 6 Place du Bourg – 45290 Pressigny les Pins , in a spacious and bright room and a friendly and studious atmosphere.
The following will be provided and offered for this course to each person (value 60 euros):
a pencil, an eraser,
brushes and a palette,
A block of drawing sheets in A5 format, thick watercolor type paper (300 grs),
5 tubes of oil paint: 1 white, 1 black, 1 cobalt blue, 1 medium red, 1 yellow,
the living model
rags, linseed oil and a sheet of coated cotton canvas.
Program :
FRIDAY :
20h00 : Dinner
21h30 : Présentation of the workshop . The Male nude in the art history
Saturday:
8h30 : Breakfast
9h30 : Presentation of drawing techniques. Color preparation.
12h30 : Lunch
14h30 : Painting session with living model .
20h00 : Dinner
21h30 : FilM Palette / La fille à la perle – Film de Peter Webber.
Dimanche :
8h30  : Breakfast
9h30  : The different techniques of oil painting. Finishes. Varnishing.
10h30 : Painting session with living model .
12h30 : Lunch
14h30 – 16h30 : Free workshop
Inscriptions: www.gayresort-hotel.com / info@vieuxdonjon.com / tél: 0238949756